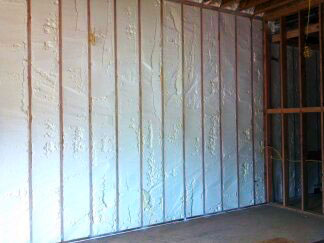 According to the U.S. Department of Energy, 44% of the energy used by the average household is related to heating and cooling.  Improving the quality of insulation in the home can reduce monthly temperature control costs by 10 to 30%, recovering the investment in a very short time.  Blown Insulation, also known as loose-fill insulation, is the perfect solution for tight, hard-to-access spaces where more traditional types of insulation are impossible to install.  Due to innovative installation techniques, this modern alternative does not harm existing finishes or require tearing, cutting, or disrupting existing walls or ceilings.  It completely fills in around obstructions and tight corners, and effectively seals crevices and leaks, without time-intensive labor.  Experienced and skilled installation from Alliance Air & Heat ensures that your project is handled neatly and in an organized fashion.  By utilizing state-of-the-art equipment and top quality, environmentally responsible materials, our licensed specialists maximize comfort, energy savings, and value.  We bring long-term benefits to our customers in Winter Park, Longwood, Oviedo, Kissimmee & Maitland, FL.
For blown-in insulation services, contact Alliance Air & Heat!
Delivering trusted solutions to homeowners across Orlando FL, Lockhart,FL, Longwood FL, Winter Park FL, Maitland FL, Kissimmee FL, Oviedo FL since 1996, Alliance Air & Heat is your neighborhood cooling specialist.  Through effective strategies, proven products, and expert workmanship, we improve your indoor comfort.  Family owned and operated, we recognize the need to minimize cost without sacrificing the enjoyment or usability of your home.  With blown-in insulation, you get the best of both, significantly reducing monthly energy bills while preventing drafts and loss of conditioned air.
What are the advantages of blown in insulation?
By expanding to fill every crack and space, airflow is prevented, providing outstanding efficiency
Quick, proper installation can result in an airtight attic
The tighter fit provides effective noise reduction
Moisture does not degrade performance
Non-toxic & safe for the environment
Safe installation
Contained inside a sealed blanket and relying on virgin materials, it is safe for people who suffer from allergies
Made from cellulose, which is primarily recycled products
Permanently non-flammable
Resistant to rodents, insects, mold, mildew, and fungus
Non-compromised fit around plumbing, piping, and conduit
Blown-in insulation rate R-19 equals the performance of R-30 batting
Can be installed without removing existing insulation
Because we "shoot" the material in, we do not need to work or place our weight over ceilings that may crack
Cellulose is 30% more effective than fiberglass in reducing air infiltration
Cellulose insulated homes requires around 26% less energy to heat than a fiberglass insulated residence
Cost of installation is recovered by energy-saving benefits in two to four years
Reduces heat gain/heat loss of the home, which lowers the workload of HVAC systems
Less wear and tear on heating and cooling equipment promotes fewer repairs and longer service life
Superior indoor comfort for less cost
Count on the professionals from Alliance Air & Heat to handle your project to your highest expectations.  We do the job right, start to finish.  By maintaining a neat and tidy work area, preventing damage, and cleaning up at the time of completion, we eliminate inconvenience.  Flexible scheduling, prompt arrival, and quick turnaround accommodates your busy lifestyle.  Conscientious and precision installation delivers superior results.  Contact Alliance Air & Heat at (407) 522-1888.  We're standing by to improve your way of life.