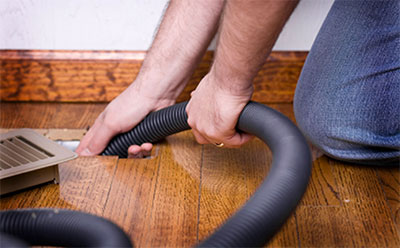 Contact Alliance Air & Heat for professional duct cleaning and expect better service and superior return.  Our fully licensed, insured, and bonded technicians utilize state-of-the-art equipment to remove stubborn grime and contaminants from your system.  Through proven processes, we eliminate microscopic debris that hinders HVAC performance, contaminates breathing air, and decreases comfort.  We make it easy to protect your home with convenient scheduling, upfront pricing, and courteous service.  Trust that our specialists arrive on time, safeguard all surfaces from harm, and clean up after the job.  Family owned and operated since 1996, we provide a trusted source for heating, cooling, and air quality solutions in Winter Park, Longwood, Oviedo, Kissimmee & Maitland, FL, taking the extra steps that ensure lasting results.
Efficient, Professional Duct Cleaning Services
Professional duct cleaning is an investment in total peace of mind, with the added bonus of improving HVAC operation and efficiency.  Whether your heating and cooling system is running or sitting idle, airborne contaminants gradually infiltrate the inner workings.  This debris is drawn into the duct system. Over a period of time, dust, construction debris, insects, webs, and much more, can accumulate inside your air ducts, restricting airflow.  Airflow is essential to the operation of your furnace, air conditioner, or any type of forced air temperature control system.  When equipment is forced to work harder to achieve optimum temperatures, the result is excess wear and tear, more frequent repairs, higher running costs, and shortened service life.  It only makes sense to do everything you can to protect these vital pieces of equipment.  Take advantage of twenty years of industry experience, advanced technology, and our commitment to your complete satisfaction.  Leave the duct cleaning up to Alliance Air & Heat, and we'll exceed your expectations.
For ductwork cleaning throughout Orlando FL, Lockhart,FL, Longwood FL, Winter Park FL, Maitland FL, Kissimmee FL, Oviedo FL, contact Alliance Air & Heat today!
If you're not entirely certain that the air in your home or commercial space is free from allergens, contact the experienced professionals from Alliance Air & Heat.  Our team of specialists have the background to complete your project safely, without damaging essential ductwork or exposing you to hazards, such as mold spores.  We remain current with the most innovative and effective cleaning technology to ensure maximum value from this quick and convenient process.  After just one treatment, you'll benefit from a proper and clean flow of air that can vastly improve Indoor Air Quality, heating and cooling costs, and comfort.  To breathe easier, count on Alliance Air & Heat for meticulous duct cleaning for your home or business in Orlando FL, Lockhart,FL, Longwood FL, Winter Park FL, Maitland FL, Kissimmee FL, Oviedo FL.
Some of the advantages of duct cleaning from Alliance Air & Heat include:
Clean air ducts allow heating and cooling equipment to operate properly, which can lower monthly energy bills.
For anyone who suffers from asthma or is prone to allergies, duct cleaning promotes healthier air quality, reducing the number of allergens that irritate symptoms.
Duct cleaning is a proactive and effective means of eliminating indoor contaminants, such as dust mites, tobacco smoke, mold spores, chemicals, pet dander, bacteria, carbon monoxide, and more.
Cleaner ductwork means a cleaner home, less dusting, and less odors
Duct cleaning removes airborne microorganisms, helping to alleviate allergy and asthma symptoms.
Improved HVAC efficiency saves on monthly utility bills.
When duct cleaning is handled by the professionals from Alliance Air & Heat, work is completed quickly, accurately, and in an organized manner.