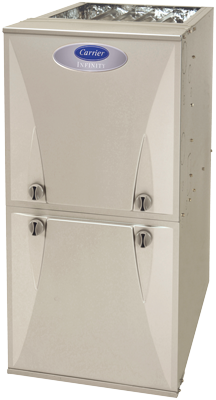 When it's time to install a new heating system, there's a seemingly endless list of choices to make.  You certainly don't want to live with a mistake for the next twenty years!  The right contractor guides you through the process, providing knowledgeable recommendations and quality equipment.  With your long-term comfort, budget, and safety at stake, there's no one better to handle the new installation or retrofit of a modern heating system than Alliance Air & Heat.  We make it easy to get the best possible results.  Family owned and operated, we've brought rewarding solutions to home and business owners in Winter Park, Longwood, Oviedo, Kissimmee & Maitland, FL since 1996.  Our industry background, specialized training, and unwavering professionalism are the keys to a job done right.  We manage your project with attention to detail, working closely with you to better answer your specific requirements, and achieve your goals.  By custom designing and building the perfect system, we maximize performance and longevity, cutting operational costs, extending service life, and delivering dependable comfort.
Reliable furnace and heat pump installations every time!
Furnace Installation and Heating Replacement Service in Orlando FL, Lockhart,FL, Longwood FL, Winter Park FL, Maitland FL, Kissimmee FL, Oviedo FL
Whether you are a home or business owner, Alliance Air & Heat offers a broad selection of state-of-the-art furnaces and heat pumps, certain to meet your highest demand for efficiency, capacity, and cost.  We specialize in Carrier brand products, answering the challenge of indoor temperature control with the most dependable and innovative equipment on the market.  Through advancements in technology, Carrier puts precision control at your fingertips.  Adjust temperature, fan speed, ventilation, humidity, air quality, and more, all from the touch of a button.  Customize zones within the home to personal preferences.  Get filter change alerts and maintenance notifications.  Track energy usage and take advantage of energy saving features to significantly lower those monthly utility bills.  And with WiFi accessibility, you can even manage your home or commercial comfort from your smartphone or computer.  With Carrier heating systems, the possibilities are nearly endless.  These systems actively work to maximize efficiency, quickly recovering the initial investment, while maintaining superior comfort levels throughout the home.  Alliance Air & Heat partners with Carrier to provide our customers premier solutions to even the toughest challenges.
For furnace and heat pump installations throughout Orlando FL, Lockhart,FL, Longwood FL, Winter Park FL, Maitland FL, Kissimmee FL, Oviedo FL, contact Alliance Air & Heat today!
Contact Alliance Air & Heat for a free estimate on replacement units.  Our team of fully licensed, insured, and bonded specialists supply the information and recommendations that allow for a smooth and rewarding, start-to-finish process.  To make it simple and easy to invest in quality products that serve your exact needs, financing is available for furnaces and heat pumps.  Know that your project will be handled without delays, damage to your property, or hidden costs.  We maintain an unblemished record with the Better Business Bureau through our unwavering dedication to customer satisfaction.  We serve the comfort needs of home and business owners throughout Orlando FL, Lockhart,FL, Longwood FL, Winter Park FL, Maitland FL, Kissimmee FL, Oviedo FL to the very best of our ability.  Our goal is to be your only choice for all of your heating and cooling needs, and we earn customer loyalty by exceeding expectations.  Consider Alliance Air & Heat Your Neighborhood Heating & Cooling Specialist.
---
Top HVAC Installation Company in Kissimmee FL. Heating Installation, Furnace Installation, Furnace Replacement, Heating and Cooling Installations also serving: Orlando FL, Winter Park FL, Longwood FL, Oviedo FL, Maitland FL
HVAC Company, Furnace Installation & Heat Pump Installation Service, Furnace Replacement, Heating and Cooling Contractor in Orlando FL, Lockhart,FL, Longwood FL, Winter Park FL, Maitland FL, Kissimmee FL, Oviedo FL